If you wear eyeglasses, you may notice a big difference between looking through lenses that are filled with dirt, dust and grease in comparison to lenses that are clean. Thus, taking care of your eyeglasses is very important to keep them in good shape. Cleaning them daily prevents scratches on the lenses and is the best way to keep them looking great. Though it may be convenient to use your shirt or tissue to clean them, it may be doing more harm than good. There are right and wrong ways to clean your eyeglasses. Here are some tips!
Use the eyeglass lenses cleaner offered by your eye clinic. Most cleaners will be approved for use on lenses with anti-reflective (AR) coating.
Use individual, packaged disposable cleaning wipes. Before use, inspect if there is dust or debris on the lenses. Wipe and then clean.
Microfiber cloths are safe and soft on the lenses. They clean and wipe off oil and dust off the lenses. They also do not smear or scratch the lenses.
Hand wash cloths with warm water and dish soap and air dry
Clean lenses with warm water and dish soap with hands gently. Rinse with water.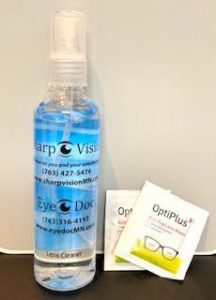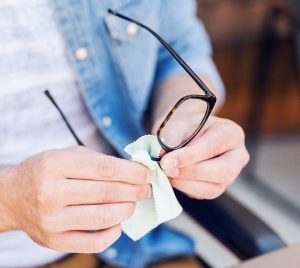 Wrong ways to clean your eyeglasses
Do not use your shirt or other clothing to clear your glasses. This can scratch your lenses.
Do not use household glasses cleaners, such as Windex. These products do more damage and can cause the coating of the lenses to peel.
Do not use paper towels, tissues or napkins. These materials are coarse and can cause minor scratches on the lenses.
Do not use acetone. It is destructive to the lenses and frame.
Do not use saliva to wet or clean lenses. It can increase smudges on your lenses.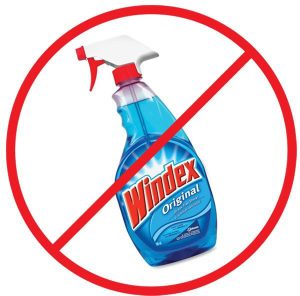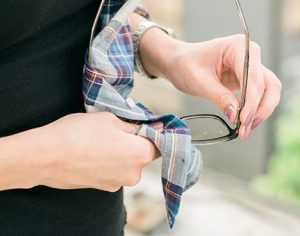 Author: Dr. Ia Ong Her Published: 01/28/2021