Many would associate smoking with lung cancer; however, it can affect the whole body including our eyes. Studies have shown that smoking can increase risks of certain ocular conditions including dry eyes, cataracts, age-related macular degeneration (AMD), and diabetic retinopathy. What exactly are these conditions?
Cataracts
Cataracts are the world's leading cause of blindness. It affects the lens in the eyes and as the lens starts to cloud, one may experience a decrease in vision. The risk of developing cataracts doubles with smoking. Symptoms to be aware of include: blurred vision, light sensitivity, glare, decrease in color brightness and poor night vision. Treatment includes surgery where the lens is removed and the lens is replaced with an artificial lens.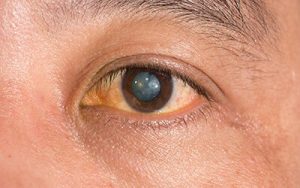 Image by: https://www.osmich.com/cataracts-dearborn/
AMD
Age-related macular degeneration is an ocular condition that affects the macula, the area of the retina that is responsible for the most detailed vision. The macula deteriorates over time and can cause central vision loss and irreversible blindness making it difficult to recognize faces even though peripheral vision is still present. AMD is not painful which can go unnoticed as time goes by thus it is very important for regular eye examinations. With smoking, it can increase the risk of AMD three times more compared to nonsmokers. If one is already diagnosed with AMD, quitting smoking can help slow the condition.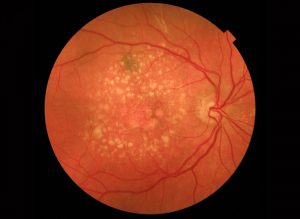 Image by: Gemma Corkery-McClean, Specsavers Whangarei, NZ
Diabetic Retinopathy
Diabetic retinopathy is associated with diabetes, a condition that causes high blood glucose or blood levels. Smoking can increase the risk of developing diabetes which can lead to retinopathy. This condition causes the blood vessels in the back of the eye to weaken and leak blood that can affect the field of vision and potentially loss of vision if it is severe.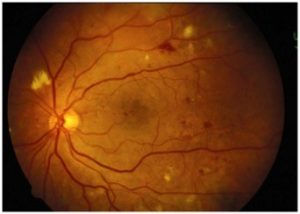 Image by: https://oceanophthalmology.com/retina-services
The best way to protect your eyesight from damage that is linked to smoking is to quit or never start smoking. Be aware that second-hand smoking can also increase the risks of developing health conditions which can also affect the eyes. Though we cannot stop ourselves from aging, we can keep away from smoking. If you or your loved ones need resources to help quit smoking, here is a resource.
https://www.health.state.mn.us/communities/tobacco/initiatives/cessation/index.html.
Author: Dr. Ia Ong Her
Published: 05/20/2021